More info
Module integrates with full hardware TCP/IP protocol stack Ethernet chip W5500, and network communication is fast, stable and robust. The user just need to refer to the reference schematics and the user manual, can complete the hardware circuit design quickly, reduces the development difficulty and saves the development time.
Features
W5500S2E-Z1 module has the following key features:
Baud rate can be set between 1.2kbps~1.152Mbps
10/100M auto speed Ethernet interface
Support TCP Server、TCP Client anad UDP three difference operation mode
Flexible serial data packet settings to meet the various requirements
Smart network cable detection and keep alive function to provide real-time communication
Support DHCP to automatically obtain IP addresses
Support DNS function to meet users' needs for communication through domain name
Support NetBIOS functionality for user-friendly naming of devices
Support TCP authorisation function, improve communication security
Support for serial port AT command configuration
Built-in Web server for remote device management
Support the configuration tool for Windows
Support for local and remote firmware upgrades
Hardware Specification
32 bit ARM MCU
LAN
Serial port
Serial Communication parameters

Baud rate: 2kbps to 1.152Mbps
Data bits: 7, 8
Stop bit: 5, 1, 1.5, 2
Checksum: None, Even, Odd
Flow control: None, CTS/RTS

Software

Tool: WIZS2E ConfigTool for Windows
Configuration methods: ConfigTool,Web browser,Serial AT command

Power
Dimensions

Size (L × W × H): 44.5x31.75x15.75(mm)

Operating temperature

Industrial Grade: -40 ~ +85 ℃

Storage temperature
Configuration method
W5500S2E-Z1 provides three common parameter configurations for users to choose from:
WIZS2E ConfigTool for Windows software, users can install the software on the Windows operating system computer configuration;
Web browser configuration, facilitate users to configure locally or remotely through a Web browser;
AT command configuration, users can integrate W5500S2E-S1 into their own embedded products on the motherboard, through the AT command for parameter configuration, or directly through the serial tool to use the AT command configuration.
Physical dimensions
Users who need to integrate the W5500S2E-Z1 module on their motherboard can refer to the appearance mechanical dimensions provided by FIG. 1‑1. The length, width and height of the product, the distance between the two parts of the needle and the position of the four mounting holes are specified in the figure. In addition, the pin header is spaced by 2.54mm standard pins.

Figure 1‑1 W5500S2E-Z1 module physical dimension diagram - top view


Figure 1‑2 W5500S2E-Z1 module physical dimension diagram - side view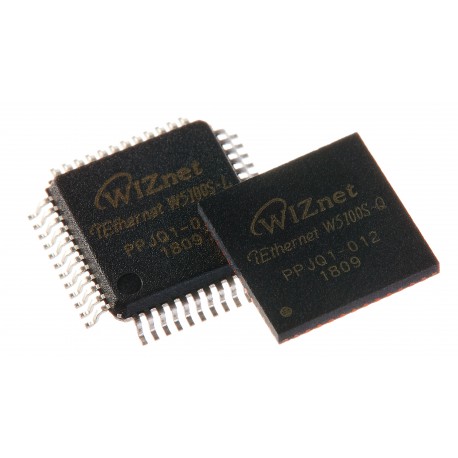 Figure 2‑1 W5500S2E-Z1 module outlook


Figure 2‑2 W5500S2E-Z1 Module Pin alignments